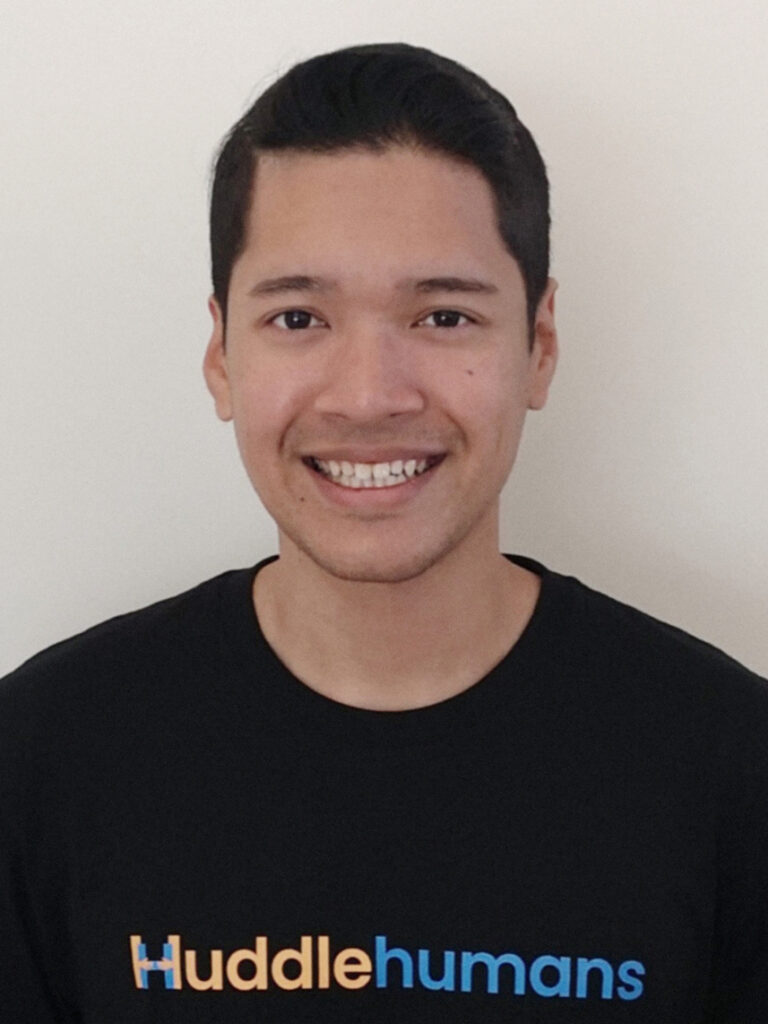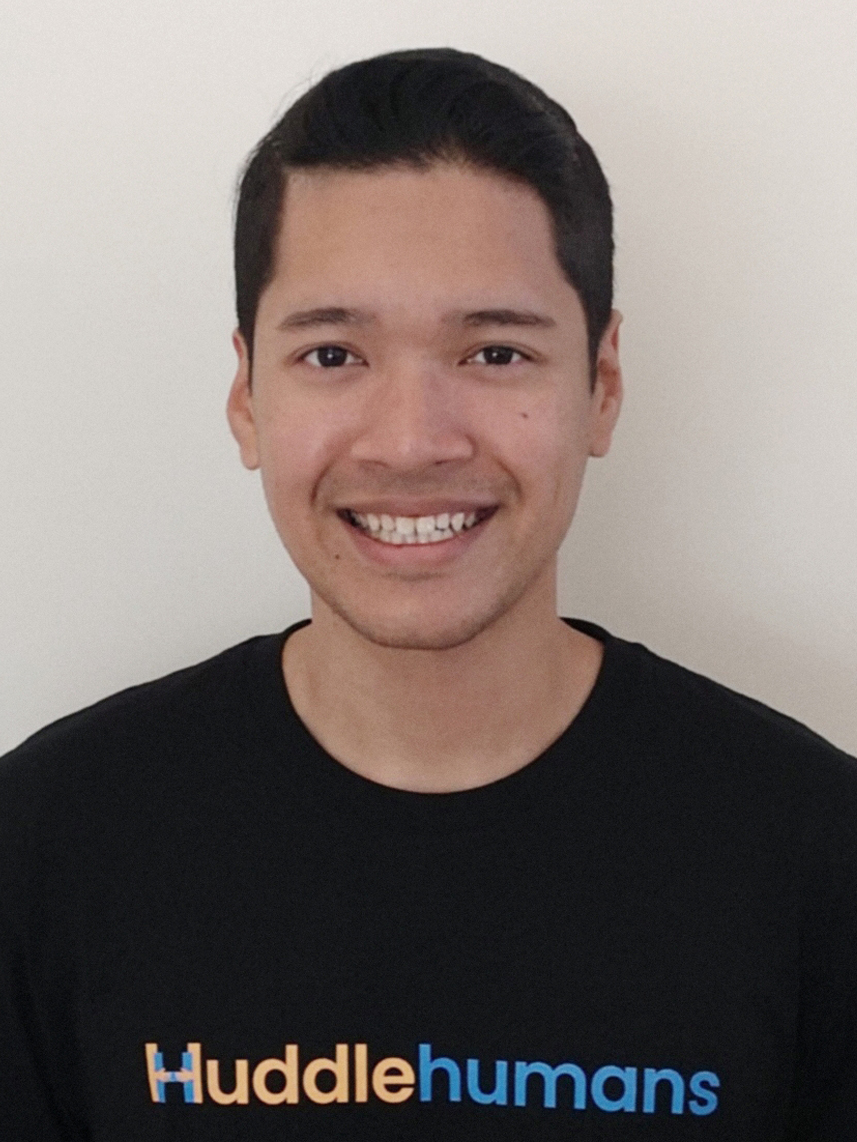 Viaano is the founder and CEO of Huddlehumans. He is responsible for running all facets of the organisation that includes executing the organisation's vision and mission, leading the development and implementation of the organisation's overall strategy, and ensuring the continual drive of performance and innovation of the organisation. Viaano is known for his candor and aptitude in developing genuine relationships, his strong leadership and communication skills, and his exceptional talent to be innovative and creative in the contemporary world.
Before starting his work on Huddlehumans in 2017, Viaano has had a wealth of experience in a variety of settings across Australasia and Singapore that comprises of working with individuals, children, families, youth-at-risks, substance abuse, inpatient and outpatient mental health, and large non-profits. Some of the organisations he has experience working with includes The Institute of Mental Health, The Benevolent Society, as well as various mental health organisations abroad such as Drug ARM Australasia. Viaano sits on the council of National Youth Council Singapore and is also a founding member of the Eurasian Association's Youth Committee.    
Known for being a visionary and having a relentless attitude of never giving up, Viaano envisions a world where mental health experiences are not looked down upon, and instead being openly normalised as a part of life's journey. That was the raison d'être for the creation of Huddlehumans. Viaano continues to fight for that dream, holding the core belief that social change and a much-needed shift in perception can occur globally in the world of mental health, and will not stop until that vision is fulfilled.
Viaano holds a bachelor's degree in social work from Griffith University. He enjoys volunteering, sports, and pampering his pet budgie in his spare time. Viaano can be reached at [email protected]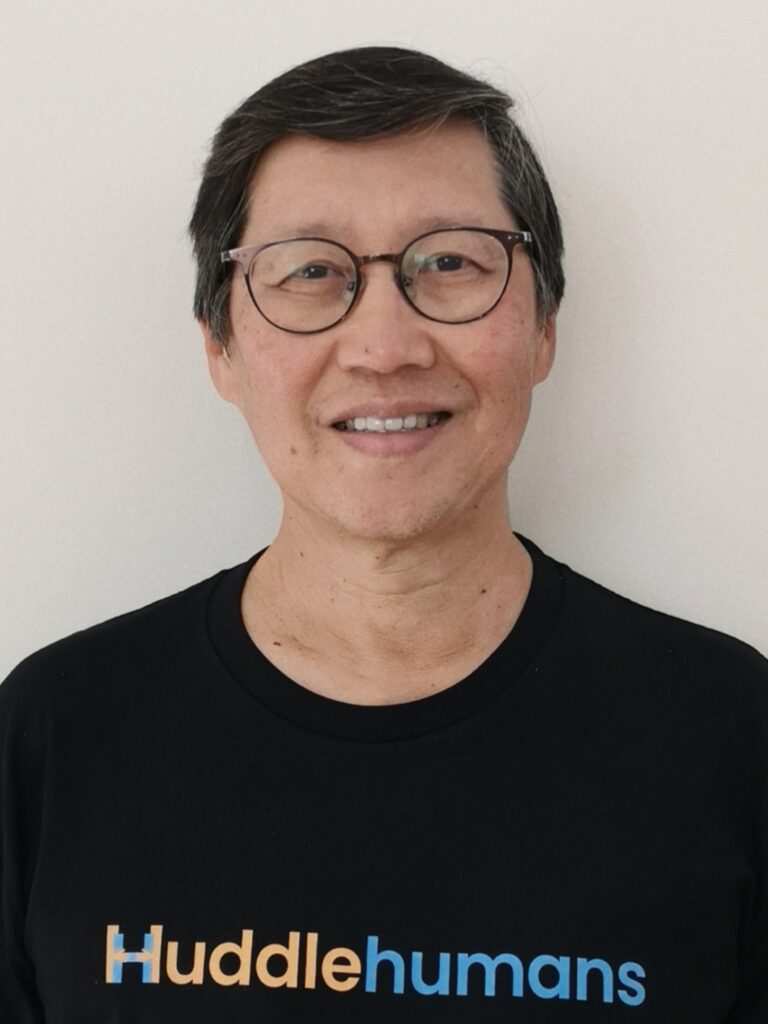 Clifford is the co-founder and Chairman of Huddlehumans. He is responsible for creating the conditions necessary for the organisation's overall effectiveness, ensuring effective communication occur within the board and its shareholders, and the provision of guidance in ensuring Huddlehumans conform to the precepts of a mental health community in accordance with the vision of the founder.
Before being invited to join Huddlehumans, Clifford had established a distinguished career in both the public service and private sector in Australasia. He served in the West Australian Corporate Affairs Office investigating corporate crimes at the Perth Stock Exchange and was an advisor in the Department of Industrial Development under the Vice Premier's Office. In the private sector, he helmed several multinational banks on an institutional capacity in Stockbroking and Investment Banking. He was responsible for managing Australia's Bain & Company in Singapore, establishing Japan's Nomura Securities Office in Singapore, as well as the formation of OCBC Securities Office in the Phillipines. He served as president of OCBC Securities Philippines and also held positions as Governor of the then Manila Stock Exchange, serving in the Listings Committee of the newly merged Philippine Stock Exchange (PSE).
Clifford holds both a master's degree in business administration and a bachelor's degree in commerce from the University of Western Australia. He enjoys fishing and growing herbs in his spare time. Clifford can be reached at [email protected]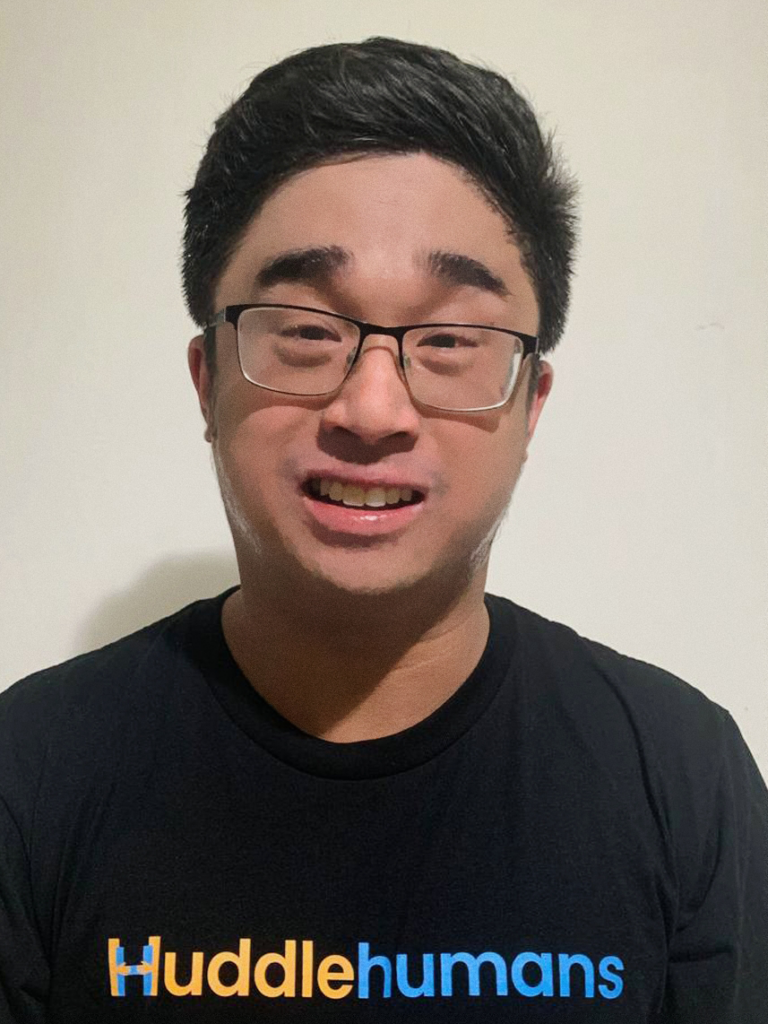 Chief Legal Officer & Chief Financial Officer
Wilson is the Chief Legal Officer and Chief Financial Officer of Huddlehumans. He is responsible for the overall legal affairs that includes the provision of legal counsel to the executives, as well as the development of the legal strategy of the organisation. As the Chief Financial Officer, he is responsible for managing the finance and accounting functions of the organisation adhering to the general accounting principles established by the regulatory entities.
Besides being a part of Huddlehumans, Wilson's passion for tennis at a competitive level led him to work in a sports related organisation in Singapore dealing with high precision athletic chambers. These chambers simulate environmentally controlled conditions for elite athletes training for competition.  
Wilson also possesses a passion for music, having performed violin at the highest level. As a violinist, he participated in many charitable events such as Telethon and Starlight Children's Foundation in Australia. His enthusiastic nature in helping the less fortunate, coupled with his extensive involvement in community work, gravitated him towards joining Huddlehumans where he knows he can make a positive difference in the mental health sector.
Wilson holds a double degree in law and commerce from Bond University. His hobbies in addition to tennis, is gaming and cafe hopping. Wilson can be reached at [email protected]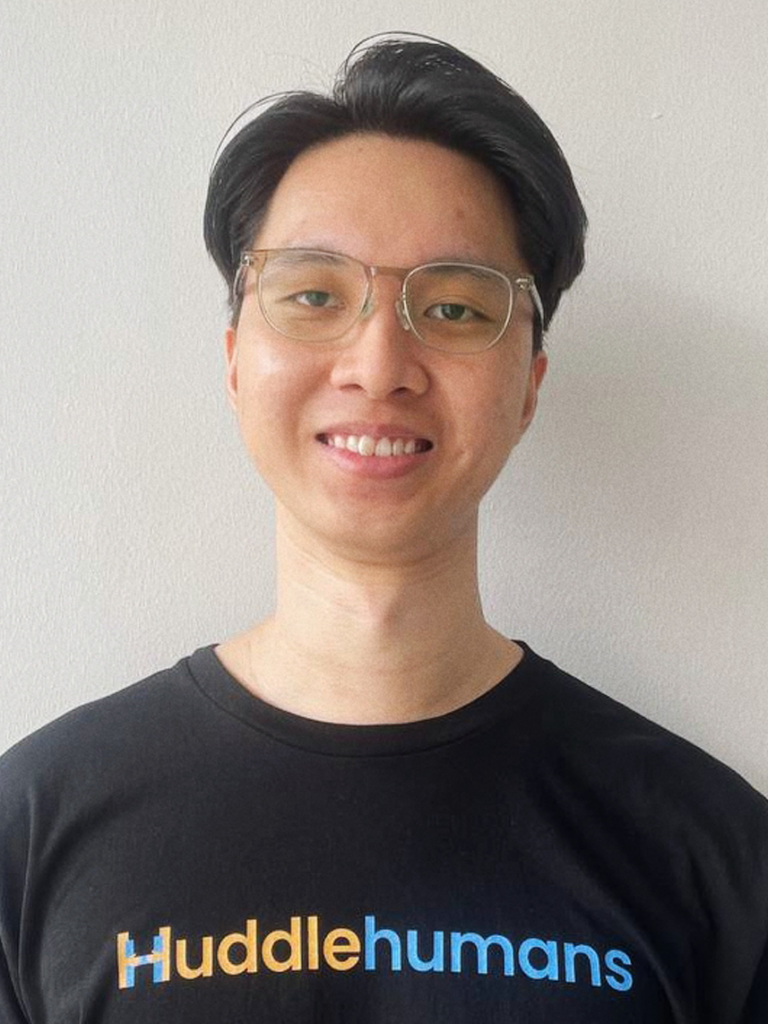 Fabian is in charge of the overall operations of Huddlehumans. He is responsible for overseeing the daily operational functions, strategic direction, vision, performance and growth of the organisation. Fabian is known for his exceptional interpersonal and communication skills, aptitude in decision-making and problem-solving, as well as his ability to maximise operational excellence and performance.
Embracing the core values of empathy, genuineness, and acceptance, Fabian is most fulfilled when helping people. His vision and ability to build genuine relationships with people comes naturally to him.
From a young age, Fabian was always concerned about the stigma and labels attached to those with mental health struggles. He felt that it was all wrong, that just because these people did not fit under what society perceived as 'the norm', does not mean that the wider society gets to choose to cast them aside and ignore their mental health experiences. He firmly believes in a world where mental health can be normalised and has made it a global mission to empower the voiceless and stand up for them.
Fabian is a coffee enthusiast and spends his spare time reading up on financials and economics. Fabian can be reached at [email protected]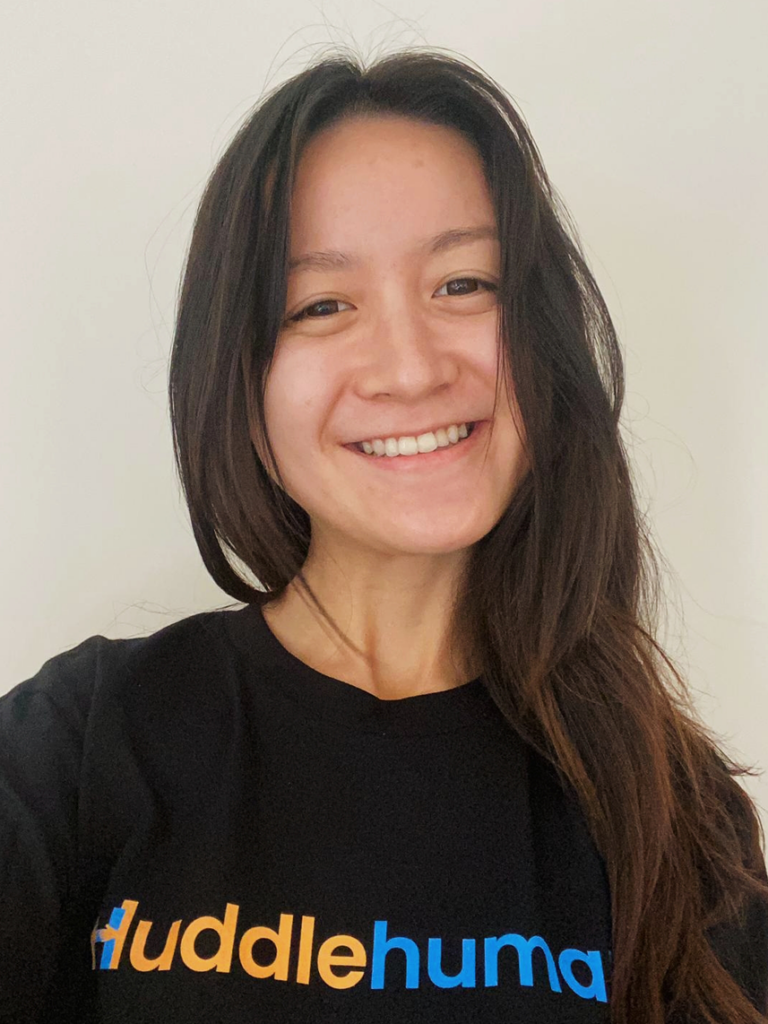 Talya is the Head of Social Media of Huddlehumans. She is responsible for leading Huddlehuman's global social media marketing efforts, strategically developing highly creative and targeted social media marketing campaigns, and driving integration and best practices across internal brand teams and external agencies.
Talya is the scion of the renowned Singaporean author, Rex Shelley, and inherited his huge passion for art and people. During a 3-year period after graduating with a diploma in architecture, her love for art and helping people rekindled. She ventured into starting her own business, 'Mind in the Mountains', with the aim to bring expression through art to everyone. It was there where she found art therapy to align very well with her ambitions, eventually inspiring her to work towards becoming an art therapist. In Singapore, Talya is known in the art scene, specialising in large canvases of painting and commissioned work.
Understanding that mental health is an area that is highly stigmatised, discriminated upon, and largely seen as a sign of weakness, Talya made it a global mission to promote mental health and wellness through the innate and natural healing processes of art.
Talya holds a bachelor of arts majoring in psychology from the University of Western Australia. Her interests include philosophy, painting, and exploring nature. Talya can be reached at [email protected]
Nicholas is the Head Marketing Officer at Huddlehumans. He is responsible for leading and implementing Huddlehuman's overall marketing plans designed to capitalize on market opportunities. 
Nicholas is known for his introspective disposition of continuously looking to grow as a person in all facets of his life. He stands out with his especial communication skills driven by his emphatic nature as a listener and outspoken charisma. 
He strongly believes that prioritising one's mental health should be at the forefront of their journey in life and endeavours to create a world where the sharing of mental health experiences is normalised and also taken care of. He takes pride in sharing about his personal experiences with mental health and how it has inadvertently allowed him to nurture even more as a person. 
Nicholas holds both a diploma and a bachelor's degree in Business Marketing. His interests include gaming, reading up on life philosophies, and listening to music. Nicholas can be reached at [email protected]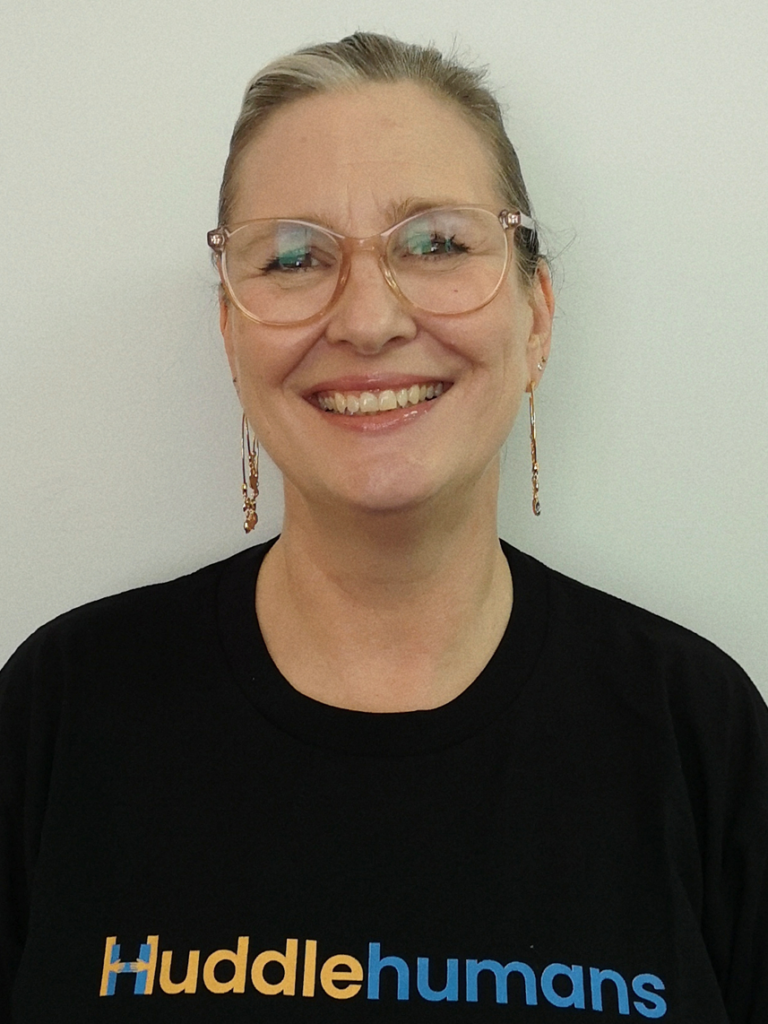 Head of Huddlehumans United Kingdom 🇬🇧
Nicola is Huddlehumans' Head of United Kingdom. She is responsible for overseeing the overall development and expansion of Huddlehumans in the United Kingdom. Nicola is passionate about strengthening mental health interventions with cultural humility to support our modern multicultural populations effectively. 
Born in the United Kingdom, she began her career in the National Health Service (NHS) as a systems analyst and IT project manager. She specialised in directorate communications and mental health information systems, supporting healthcare providers to deliver quality mental health services in hospitals and community environments.
She has extensively worked throughout Europe and Asia and decided to settle in Australia in 2001. She joined the Australian Red Cross (ARC) as a Regional Business Coordinator & Disaster Recovery Administrator.  During her time with the ARC, she received a government commendation for her part in the ARC disaster team response to the devastating 2006 North Queensland cyclone.
After becoming a parent, which she says is her' most significant accomplishment', she decided to return to education.  Nicola holds a bachelor of psychological science with honours from the University of Southern Queensland. She is also an Open University-trained IT project manager and holds a diploma in counselling. She anticipates her next step in becoming a registered psychologist with great excitement and intends to work towards improving cultural inclusivity within psychological research and treatment.
Nicola can be reached at [email protected]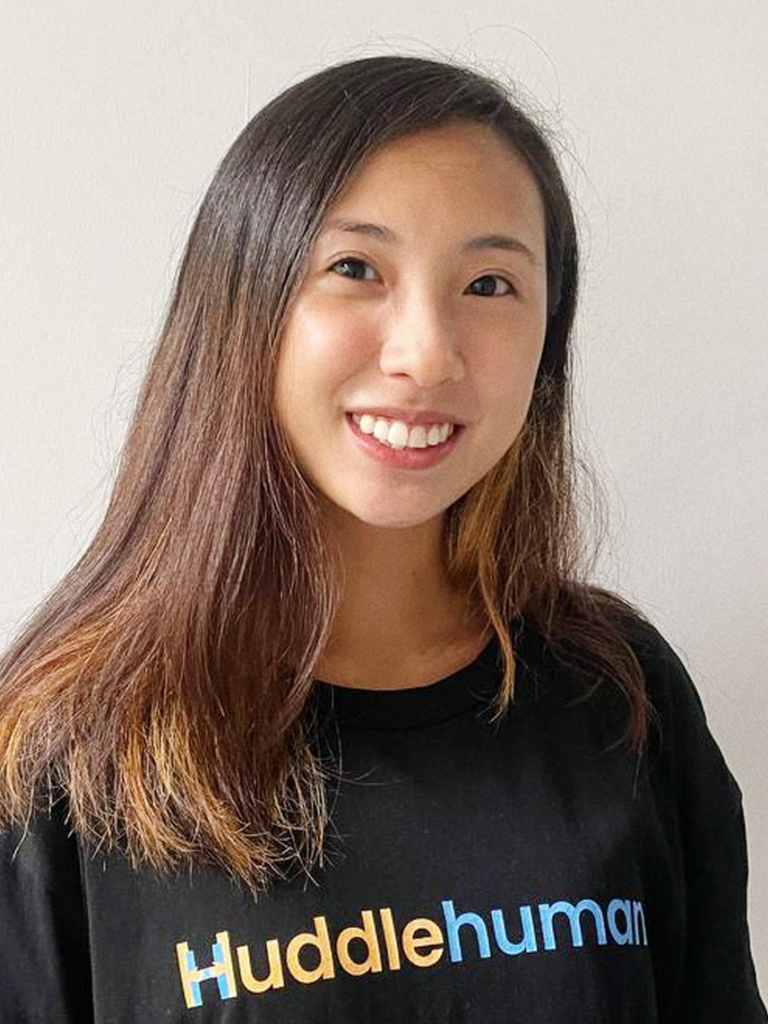 Delia is the Head Writer at Huddlehumans. She is responsible for producing mental health and wellness articles for the Huddlehumans community. Delia is best known for her expression through writing and her curiosity about the possibilities of life. Her inquisitive and creative nature allows her to constantly think out of the box, bringing ideas that are intriguing yet relatable.
Growing up in a family dealing with mental health problems made her a lifelong advocate of mental health awareness and providing support for those around her. She strongly believes in the role of communities and strong social support to facilitate mental health. This led her to start her own Instagram account @letters.from.beyond to spread bite sized wisdom on spiritual and mental well-being.
Besides joining Huddlehumans, Delia has been in the pharmaceutical and clinical research industry for many years and is well versed in the health and wellness community. Her professional background in science, together with her love for holistic wellness, brings forth a yin and yang of logic and reasoning. This helps her to empower others through understanding how our mind and body works and finding tools to establish a sense of balance in life.
Delia holds a bachelor of biomedical science from La Trobe University. Her interests include reading, singing, and having wholesome conversations about life experiences. Delia can be reached at [email protected]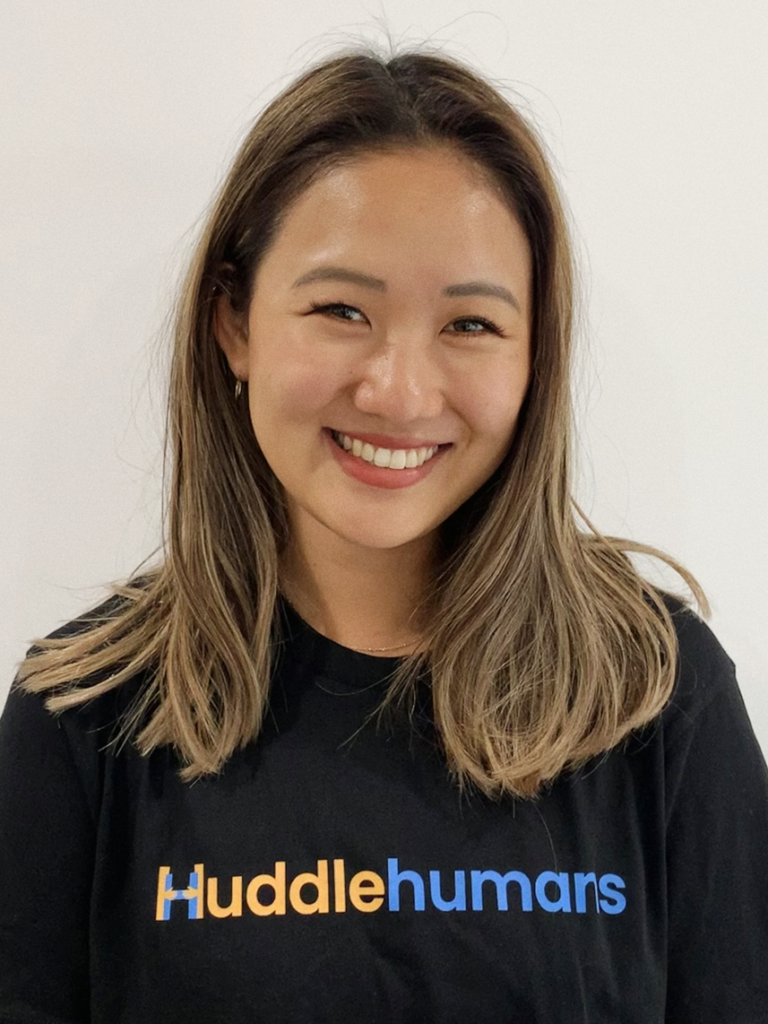 Head of Huddlehumans Japan 🇯🇵
茜音はハドーヒューマンズジャパンの責任者です。 彼女は、私たちの日本部門を管理し、ハドーヒューマンズを日本全土で信頼できるトップクラスのメンタルヘルス組織として確立する責任があります。 彼女は、高いコミュニケーション能力、外交関係を維持する能力でよく知られています。
ハドーヒューマンズに招待される前に、30カ国以上の海外を訪れました。また彼女は以前、日本の大手旅行会社に勤めお客様の旅行の手配やサポートをしていました。入社1年目には優秀賞を取得。お客様は何度も彼女に旅行相談をするほどの接客能力を会社は高く評価し、多くの人が茜音に信頼を寄せていた。
継続的な関係を築く先天性能力を生かし、彼女は多くの国の人々とたくさんの繋がりを作りました。 彼女の広範な旅行と文化的知識と相まって、彼女は世界のさまざまなライフスタイル、習慣、伝統などを理解しています。世界を旅することで、様々な人の人生の悩みとつながる貴重な機会が彼女にもたらされ、最終的には、社会規範に挑戦し、日本人のメンタルヘルスケアへの取り組み方を変えるという彼女の強い情熱を発見することになりました。
彼女はオーストラリアとフィリピンの両方で英語を学び、英語を駆使しています。彼女の趣味は、カフェに行くこと、運動すること、そして自然を感じる事です。茜音とは下記よりコンタクト取ることができます。[email protected]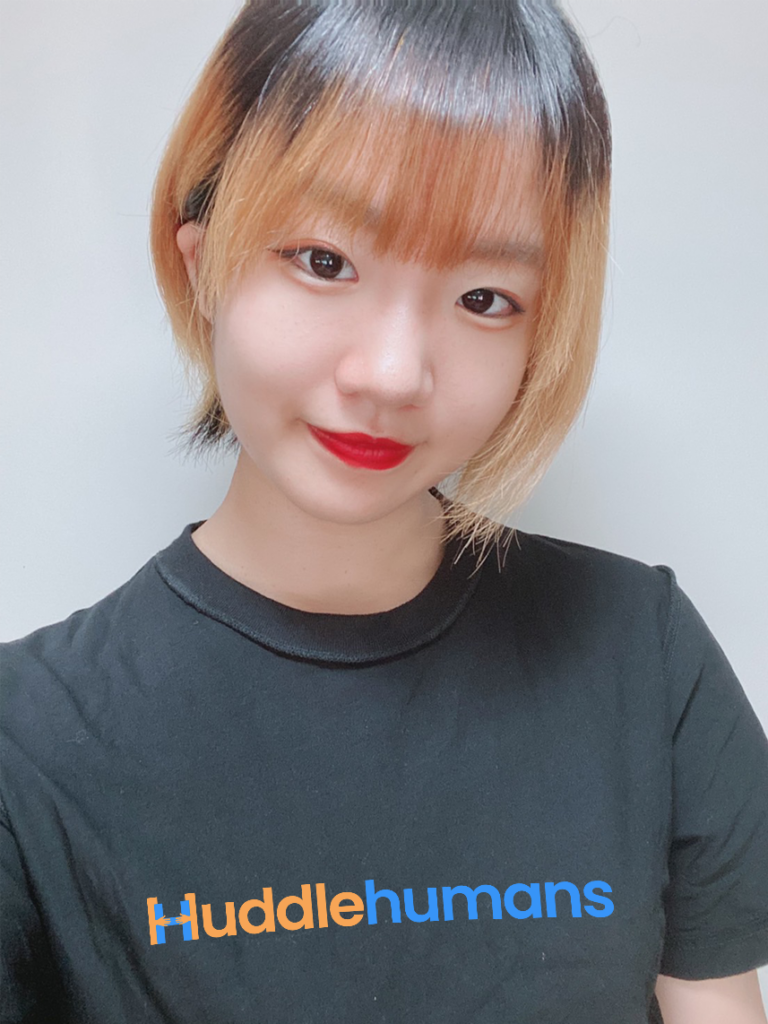 Huddlehumans Japan Team 
のあなはハドーヒューマンズジャパンのメンバーです。彼女はチームの一員として、メンタルヘルスに関する認識を日本に広めます。彼女は好奇心旺盛で、真面目で、エネルギッシュな人柄です。これにより、彼女は常に学び続けます。
彼女は愛知県の大学で国際学を専攻しています。国際ビジネス、文化、環境問題、政治、歴史など幅広い知識に触れながら多様性をテーマに勉学に励み、現在はカナダのカレッジで国際ビジネスマネジメントを学んでいます。それは、多文化主義のカナダで人々がどのように異文化を受け入れながら働き、暮らしているのかを知るためです。
彼女は特にLGBTQへのサポートをしています。多くの人の努力と活動により歴史は変わりつつありますが、現代でも差別や偏見に悩み苦しみ、それによって心の健康が損なわれることが多くあります。また、日本は高い自殺率で知られています。私たちは日本のメンタルヘルスを危惧しています。全ての人の心の健康のために、彼女は精力的に活動します。
彼女は日本、オーストラリア、カナダで英語を学び、使います。彼女の趣味は音楽をすること、本を読むこと、そして食べることです。のあなとは下記よりコンタクト取ることができます。[email protected]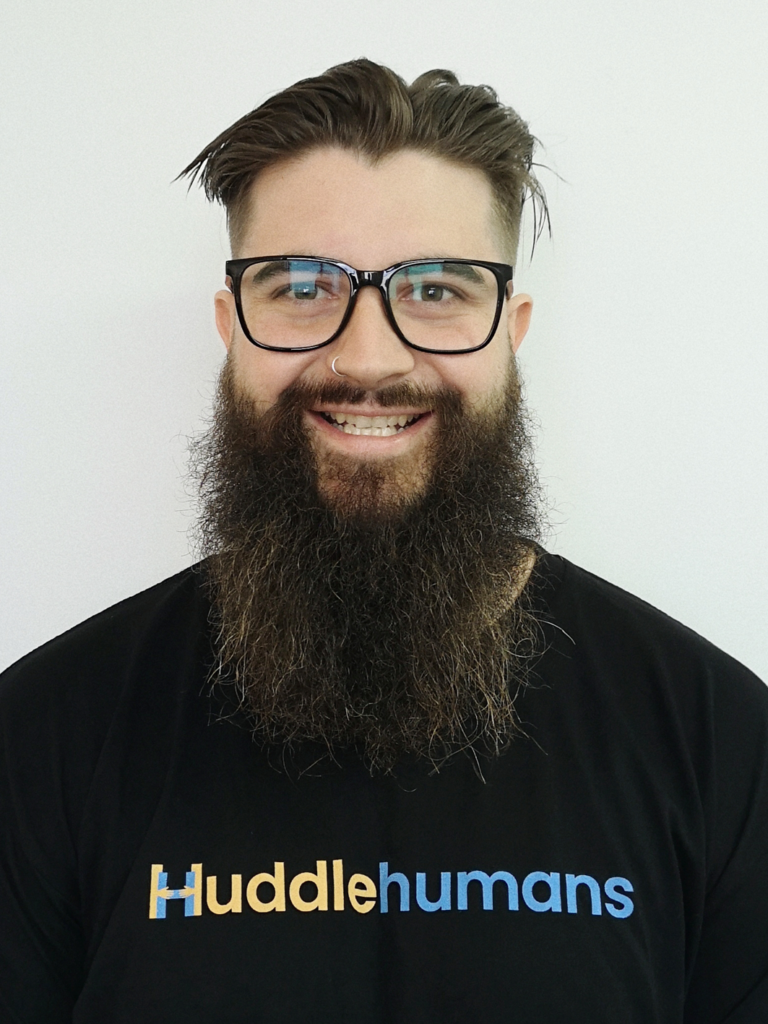 Head of Huddlehumans' Oceania 🇦🇺
Chris is Huddlehumans' Head of Oceania. He is responsible for overseeing the overall development and expansion of Huddlehumans in the Oceania region. Chris is passionate about mental health and mental hygiene. He started his working career as a boilermaker welder before pursuing a bachelor's in psychology with the hopes of furthering his studies to become a Clinical Psychologist.
Chris was originally inspired by the intriguing musings of Freud and pop psychology such as the Myers-Briggs personality types. His inspiration now comes from other great clinicians such as Stephen Porges, Peter Levine, Bessel van der Kolk, and Gabor Mate.
Chris shares an interest in addiction and trauma informed therapy. On top of that, he strongly believes in the importance of childhood experiences and the contribution of adverse childhood experiences to mental health.
Chris has gained experience volunteering at an equine assisted therapy centre and a drug and alcohol treatment provider. He is a firm believer in the importance of social connection, considering it currently paramount as Covid-19 has added to the feelings of social isolation.
Chris can be contacted at [email protected]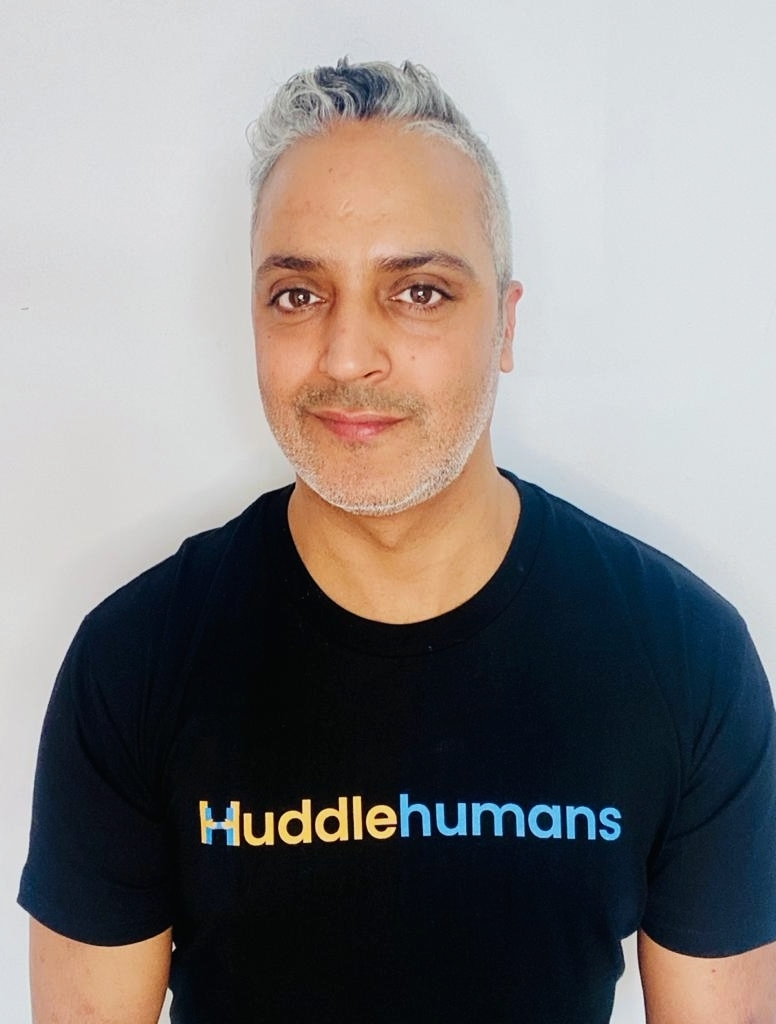 Head of Huddlehumans Middle East and North Africa 🇲🇦
Adil is Huddlehumans' Head of Middle East & North Africa. He is responsible for overseeing the overall development and expansion of Huddlehumans in the Middle Eastern and North African region. Adil is best known for his genuineness in developing strong and lasting relationships, his uncompromising adherence to strong moral and ethical principles, and his indomitable spirit to persevere under the harshest of conditions. A global citizen that possesses exceptional communication skills, Adil speaks four languages fluently – Arabic, French, German, and English.
Born in Morocco and having lived in Germany, Switzerland, and Australia, Adil has amassed a wealth of experience in the health care sector across the globe. He has worked across the European continent in hospitals and health services plying his trade in areas that include, but are not limited to, oncology, nuclear medicine, and radiology. In the Oceania region, he has worked as a diversity and inclusion officer, as well as a community engagement officer with Queensland Health – the state's health department of the Queensland Government in Australia.  
With his lineage deeply rooted in the shifting sands of the Arabian Peninsula, Adil is the perfect fit to head Huddlehumans' mental health initiatives in the Middle Eastern and North African regions where mental health care is scarce and limited. 
Adil holds a bachelor's degree in radiology, nuclear medicine and medical imaging from the Johann Wolfgang Goethe University Frankfurt am Main, a master's degree in health services management from Griffith University, and is graduating with a master's in counselling from Torrens University Australia in 2022. His hobbies include swimming, hiking, and gardening. Adil can be reached at [email protected]
السيد عادل لحرش
السيد عادل هو الرئيس التنفيذي لمنظمة هادلهيومانز في منطقة الشرق الاوسط وشمال إفريقيا ، ولد في
المغرب وتابع دراسته في المانيا و استراليا ، خبرته المتميزة بالقطاع الصحي في مجال تكنولوجيا الطب
الإشعاعي بألمانيا وسويسرا ، إضافة الى خبرته الواسعة في قطاع التسيير وإدماج الكفاءات في قطاع
الصحة الحكومية في استراليا كمسؤول التنوع والاندماج الاجتماعي في صحة كوينزلاند التابعة للصحة
الحكومية لولاية كوينزلاند.
هذا الخليط الثقاقي واللغوي والأكاديمي يجعل من السيد عادل مؤهلا للإشراف على تطوير وتوسيع منظمة
هادلهيومانز في منطقة الشرق الاوسط وشمال إفريقيا ، باعتبار المنطقة كخليط للثقافات والحضارات من
جهة ، وكذلك لكون المنطقة تعاني نقصا في مبادرات تهدف لتطوير والحد من الوصمات السلبية التي تمس
الصحة النفسية للإفراد.
السيد عادل حاصل على درجة البكالوريوس بتقنية الاشعة والطب النووي والأورام والأشعة من جامعة
جوتة بمدينة فرانكفورت الألمانية ، وكذلك حاصلا على درجة الماجستير في الادارة وتسيير قطاعات
الصحة العامة من جامعة جريفيث بولاية كوينزلاند في استراليا ، وحاليا يقوم السيد عادل بتحضير درجة
الماجستير في الاستشارات النفسية من جامعة تورانس الاسترالية .
في أوقات فراغه يقوم السيد عادل في ممارسة هواية السباحة والمشي الطويل والاهتمام بعلم النباتات.
للتواصل مع السيد عادل من خلال البريد الالكتروني التالي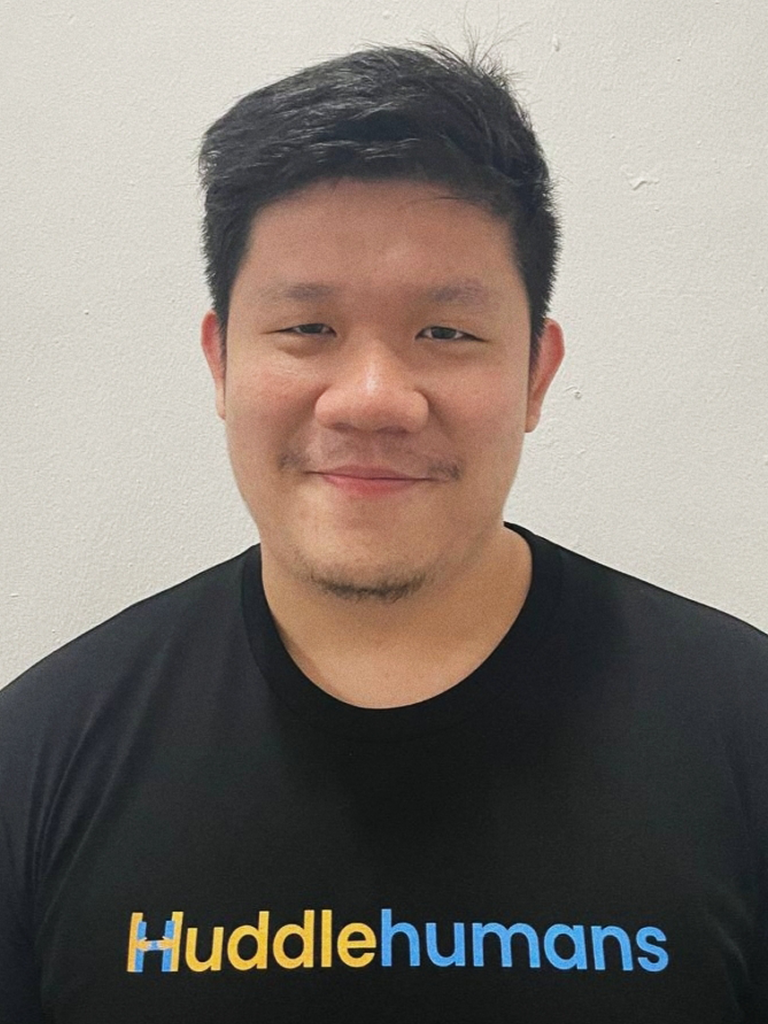 Rophe is the host/producer of Huddlehumans. He is responsible for producing exclusive content for our mental health community. Rophe is best known for his outgoing personality and his strong project management and organisational skills. His fervent drive and persistence are a product of his diligent nature, making him a perfect fit for the role.
Before being invited to join Huddlehumans, Rophe interned at Khoo Teck Puat Hospital as a medical social work associate where he collaborated with multi-disciplinary teams to formulate holistic intervention plans for patients.
Rophe always had a keen interest in mental health, and advocates strongly for the underprivileged that have no access to mental health support. Sharing the vision of Huddlehumans, he truly believes in a world where mental health experiences are normalised.
Rophe is graduating from the National University of Singapore with a bachelor of sociology in 2022. His interests includes hitting the gym, reading, and gaming. Rophe can be reached at [email protected]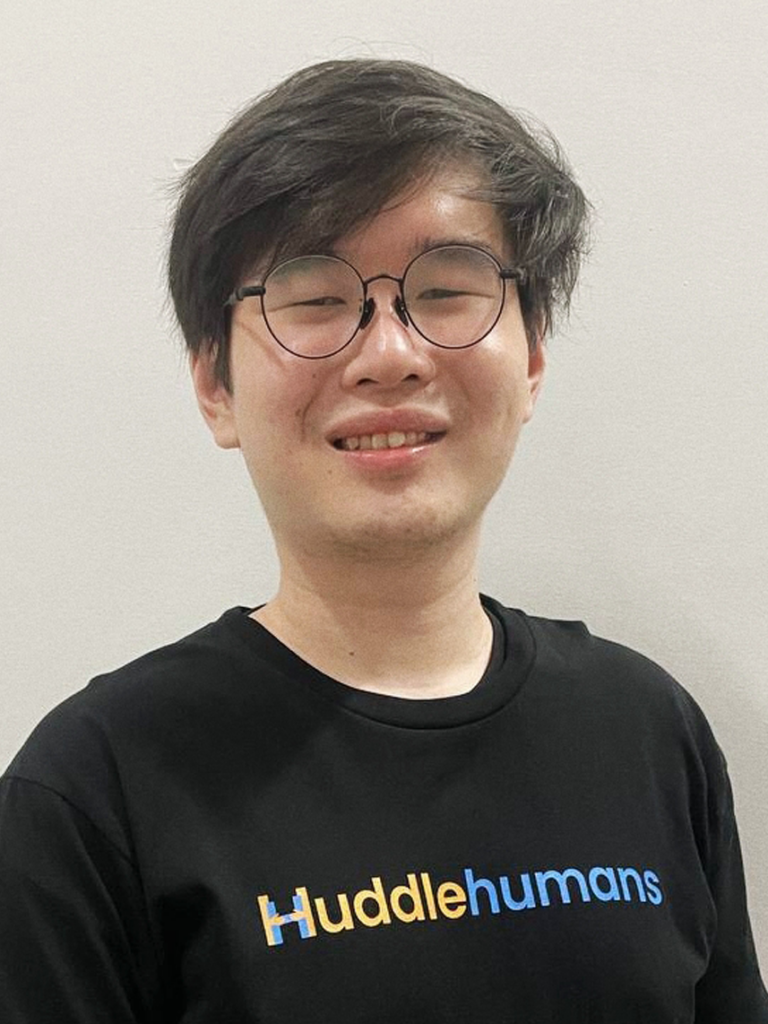 Keegan is the digital producer of Huddlehumans and is responsible for overseeing our digital media projects. Keegan is best known for his down-to-earth personality and his deep analytical skills. His passion in digital technologies, coupled with his extensive knowledge in up-to-date digital trends, makes him an ideal fit for the role.
Before joining Huddlehumans, Keegan has worked in various multinational I.T companies such as Hewlett-Packard where he gained a deep insight into the latest digital innovations and cutting-edge technologies. He has also worked on various I.T projects at CapitaLand – one of Asia's largest real estate companies.
Keegan shares the vision of Huddlehumans in destigmatising and normalising mental health experiences on a global scale. He firmly believes that Huddlehumans can transform the way people approach mental health care through e-technology.
Keegan holds a diploma in information technology and is graduating from The Royal Melbourne Institute of Technology (RMIT) University with a bachelor of business (economics and finance) in 2023. His interests include gaming, cafe hopping, and watching movies. Keegan can be reached at [email protected]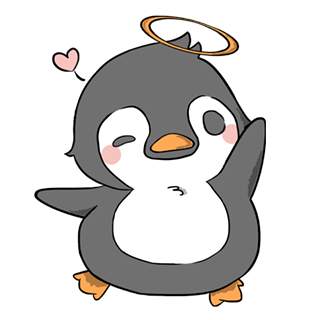 Receive exciting updates from Huddlehumans such as helpful blog articles, mental health tips, giveaways, podcast releases, and many more!

Huddlehumans is a global platform that strives to bring people together to challenge the social norms and stigma surrounding mental health.
Founded in 2017, we have endeavoured to provide a safe and non-judgemental portal for those with mental health issues to congregate and share their experiences. Recognising that mental illness is often an area shrouded in taboo and stigma, we made it a global mission to normalise mental health and continue to work tirelessly to break down barriers that prevent the disadvantaged from accessing mental health support.
Be a part of the Huddle family!
© 2021 Huddlehumans. All rights reserved. Our website services and content are for informational purposes only. Huddlehumans does not provide medical advice, diagnosis, or treatment.